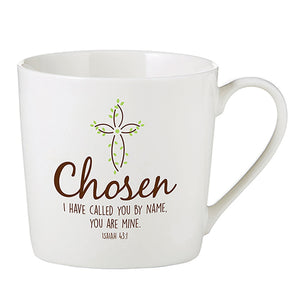 This inspirational mug has a great message of assurance for those who serve the Lord.
"I have called you by name, you are mine" - Isaiah 43:1
A great reminder of Who you belong to and Why. He has picked you for a special purpose here on earth and He has Chosen you for a destiny of eternity in Heaven.
That should warm your heart, and the mug will warm your coffee or tea!
Beautiful Bone China Mug 
Dishwasher and Microwave Safe for your convenience
3.75" H, 14 oz of refreshment