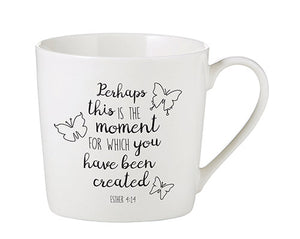 "Perhaps this is the moment for which you have been created" - Esther 4:14
In the Bible, we learn of Esther's special purpose. Her role in the destiny of the people of Israel is undeniable.
God has a purpose for your life as well. Maybe it isn't obvious to you yet, but know that this is your time and place to make a difference for the Lord.
This mug is an awesome reminder that God loves you and has created you for a special purpose that only you can fulfill in His plan.
This is a great reminder for yourself, your friends and family. Be an encouragement to others. Share God's message.
Beautiful Bone China Mug 
Classic Design
Dishwasher and Microwave Safe for your convenience
3.75" H, 14 oz of refreshment