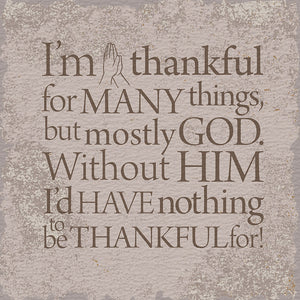 A beautiful tabletop, desk, or shelf plaque. It stands  on its own or can be displayed on a small metal easel.
I'm Thankful For Many Things, but Mostly God. Without Him I'd Have Nothing to Be Thankful For!! No truer words have ever been spoken. Express your thankfulness to God for others to see.
A great gift of encouragement and reminder for yourself or someone you love!! 
A perfect gift for a friend or statement for your own home.
Christian Verse Tabletop Plaque
Gift Boxed
Stone Look and Feel
 -- MDF/Paper -- 4"W x 4"H