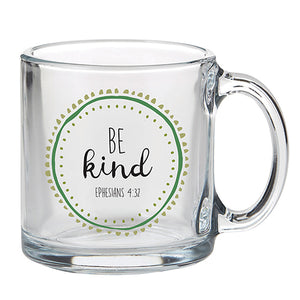 Things can get a little hectic in this world that we live in. In the hustle and business of our everyday lives, we can forget the little things, like being kind to others.
"Be Kind" - Ephesians 4:32
We all need a little reminder from time to time. This sturdy glass mug makes a great reminder to treat others in the way that we would like to be treated.
Get one for yourself and a friend to remind both of you of how good and kind God has been to you over the years.
All Glass Mug 
3.5" H, 13 oz of refreshment
Holds all your favorite beverages