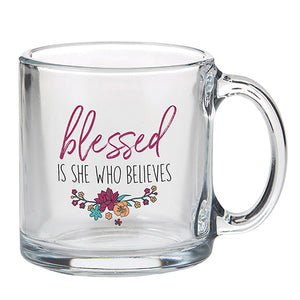 Share this message with a friend! Can you image the smile on your friend's face when she opens this blessing of a gift? What an encouraging message and reminder of God's goodness!
"Blessed Is She Who Believes"
Get one for yourself too, to remind both of you of how good God has been over the years in your friendship.
This also makes a great gift for the women in your church who have been so faithful to serve others with the gifts that the Lord has placed in their lives.
All Glass Mug 
3.5" H, 13 oz of refreshment
Holds all your favorite beverages