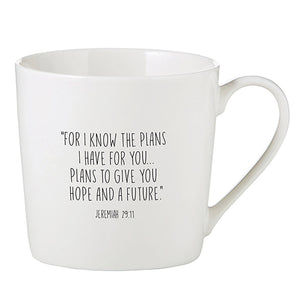 "For I Know the Plans I Have for You... Plans to Give You Hope and A Future" - Jeremiah 29:11
One of my favorite verses. It is indeed reassuring to know that God knows me by name and has a plan for my life - A GOOD PLAN!
He has a plan for you as well. Embrace that plan and make your life everything that God has intended for it to be. 
This mug is a great reminder of God's love for us and His plan to see us in Heaven. Share the Good News with all of your friends!
Beautiful Bone China Mug 
Classic Design
Dishwasher and Microwave Safe for your convenience
3.75" H, 14 oz of refreshment