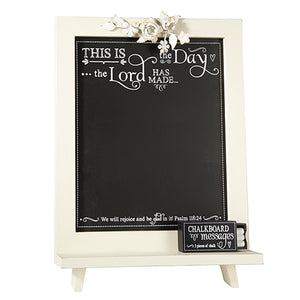 This is the day the Lord has made!
A convenient way to leave notes for family members, or post a daily reminder to be thankful for all that God has done for you and your family.
This countertop/tabletop chalkboard comes with a built in easel, chalk and eraser to make it the complete package for your personal use or as a thoughtful gift.
Chalkboard Messages 
"We will rejoice and be glad in it" - Psalms 118:24
Framed Tabletop or Wall Décor Christian Verses
Easel Attached
3 Pcs. Chalk and Eraser Included
MDF/Pine Wood -- 12"W x 18"H